About First FM
First FM broadcasts 24 hours a day, 7 days a week from our studios in Oxford, providing a local service for the city and surrounding area.
On-air programmes contain of a wide variety of music from both today and yesterday, along with news and local information such as our What's On in Oxford guide. Our daytime schedule focuses on current and recent hit music, while evenings include an alternative mix of classic hits catering to a wide variety of tastes, with specialist shows after 10pm.
Between 2014 and 2017 the station was known on air as Destiny 105. However, following a change to our licence in 2017 which increased the editorial area of the station to the city as a whole, we rebranded as First FM. The First FM name was chosen from various suggestions, with the inspiration being the concept of a "First" at university linking the name to the city's educational heritage as well as reflecting our aspirations to be first for the city.
Broadcasting from our studios in Oxford, First FM can be heard on 105.1 FM across the city and the surrounding area by a potential audience of over 155000 people with a calculated weekly reach of over 10%*. That's a higher reach than the circulation of many local papers. We're Oxford based, owned and run and the majority of our presenters live in or have strong connections to the city.
Key Milestones:
2014 - We completed our first live outside broadcast from the Cowley Road Carnival.
2014 - We became one of the first UK radio stations to broadcast on FM using open source software.
2015 - Our regularly played music library exceeded 3000 tracks (over 10 times some other stations).
2016 - The broadcast regulator Ofcom granted a renewal of our FM licence until 2022.
2017 - We became the only Oxford based station to broadcast the One Love Manchester concert live on FM.
2018 - Our regularly played music library reached 7000 tracks and will exceed 10000 tracks by the end of 2019.
2019 - The regulator Ofcom approved an aerial upgrade which will result in even greater coverage in 2020.
Some of our presenters:
| Will Reynolds | Mark Devlin | Leo B | Rob G |
| --- | --- | --- | --- |
| Garvin | Hugo | Dave Englefield | Lee Williams |
Directors and management:
Managing Director
Jonathan Cohen

Director
Kaneng Botsha

Director
Kevin Vanhoeck
Station Technology
As well as providing programmes and media training, some members of the station are working to enable the spread of information and education via broadcasting in the developing world by developing new solutions to common issues faced by broadcasters. As part of this effort, almost every aspect of First FM is built on readily available open source software and commodity hardware. Some of the open source technology and hardware currently in use is:
Rivendell Radio Automation
- All our output is stored and scheduled using our Rivendell based playout system. Rivendell offers the features and facilities of commercial playout systems costing many tens of thousands of pounds, effectively without ongoing software costs. Running on Linux, we've found it more reliable than a previous expensive Windows based solution!
Linux
- We use Linux on our PCs and servers instead of Windows wherever possible. We use
Linux Mint
with the XFCE desktop for PCs and
CentOS
for most servers. Using Linux we've experienced massively reduced costs with increased stability and uptime compared to Windows based solutions.
Asterisk
– Our phone system is based on Asterisk. This allows the studio number to be answered not only in every studio but also at a remote location during an outside broadcast. We also use Asterisk with the Opus CODEC, enabling real time broadcast quality audio to be contributed to programmes from PCs and smart phones. Being IP based this has effectively reduced our telephone costs to almost zero!
We also use:
StereoTool
- We use the commercial version of StereoTool for audio processing.
Icecast
- We use a customised version of Icecast for internet streaming.
VLC
,
Audacity
, Mplayer and many other open source audio tools.
Raspberry Pi
- A special mention for the Raspberry Pi which is used as "glue" for some tasks.
In addition to the above, we've developed a number of in-house solutions which are available to other broadcasters. These include a web based text messaging platform, a presenter portal allowing rapid access to programme content and our own AI based music scheduler.
More information and download links for some of our in-house software can be found at the Radiotools site:
www.radiotools.uk
Commercial solutions and support for for the above systems and software can be provided by Broadcast Ltd.
www.broadcast.management
Pictures
Our main on-air studio in 2016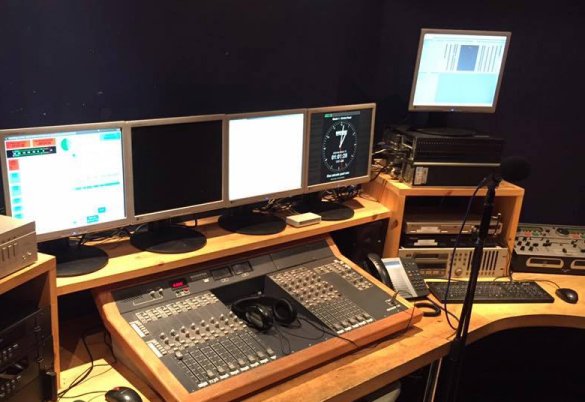 Our specialist music studio in 2014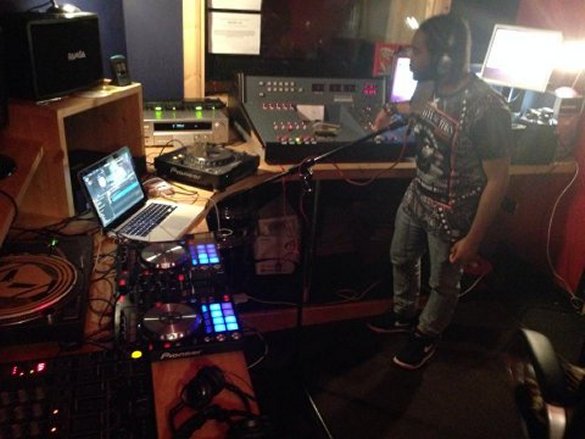 David Norland, director and presenter, who passed away in 2014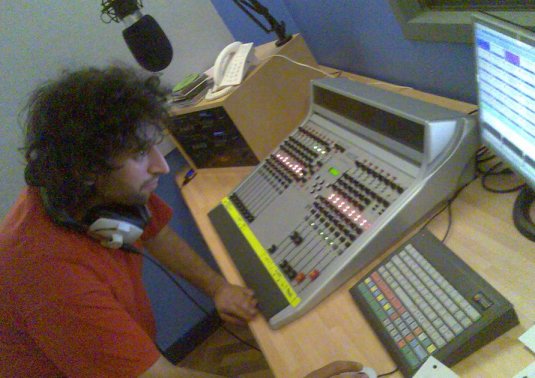 ---
* Reach calculated as a Pearson correlation between online Tunein listeners (2.5K followers as of Dec 2019) and surveyed FM figures from stations across the UK.